about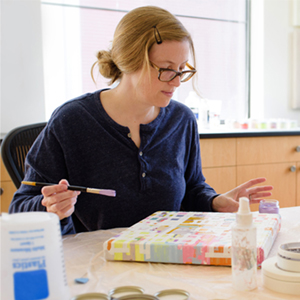 Raised in Weston, Massachusetts and Portola Valley, California, Hadley Williams received a BS in Social Work from Cornell University and an MFA in Studio Arts from John F. Kennedy University.
Juror Linda Connor selected one of Hadley's recent pieces to be included in the exhibition Black & White and Shades of Gray at O'Hanlon Center for the Arts in Mill Valley. Juror Matt McKinley chose another of her newer paintings to be exhibited in Artist Choice at San Francisco Women Artists gallery. Arc Gallery in San Francisco exhibited four new paintings in its Squared Alumni show curated by Michael Yochum. Hadley participated in the invitational show Collect at the Berkeley Art Center, and the painting in the show is featured in the September 2016 Berkeley Times newspaper. She is invited to have another solo show, this time of larger works, at the Piedmont Center for the Arts in 2018.
Other recent shows include ABSTRACT juried by Frances McCormack at the Sebastopol Center for the Arts, Reimagining Minimalism curated by Don Soker at The O'Hanlon Center for the Arts, and Abstract Preferences organized by Anthony Pinata at NIAD Art Center in Richmond.
Hadley's work was in an exhibit curated by the Oakland Museum of California at the Oakland International Airport and has been exhibited at Campfire Gallery in San Francisco, Gray Loft Gallery, Mercury Twenty Gallery and Branch Gallery in Oakland, Local 123 Gallery and Arts and Consciousness Gallery in Berkeley, Los Medanos College Art Gallery, San Pablo Art Gallery, Piedmont Center for the Arts, Start Here San Francisco and the Berkeley Civic Center.
Her art is published in California Home + Design Magazine, the literary journal 580 Split, the Berkeley Times and the Piedmont Post. It has been featured on the websites of the Oakland Museum of California, Jute Home interior design, Bay Area Visual Artists Network, Hanson Digital, City Picture Frame, Suite Five Salon, Art Business and Pivot Gallery.

An article about her art and home renovation project is published in the September 2015 Luxe Interiors + Design San Francisco magazine. An October 2016 Diablo Magazine article on her home features Hadley's permanent art installation of glass disc windows.
Hadley's shows received two Critic's Picks reviews by DeWitt Cheng in the East Bay Express and two Critic's Choice reviews by Jeanne Storck and DeWitt Cheng in The East Bay Monthly. Her work is in corporate and private collections in the United States and Switzerland.
She paints in her Oakland studio and lives with her family in the East Bay.
Statement
In my abstract paintings I use repeated, handmade forms to create clusters, fields or grids.
My recent work is a series of line paintings made with acrylic and gesso. I apply horizontal strips of tape to the canvas leaving space between strips, paint on the canvas between the tape, and spray the wet paint with water to cause the paint to bleed under the tape borders. After each round of paint is dry, I remove the tape and repeat the process until the canvas is covered.
The tension between the straight lines made by the machined tape and the more unpredictable, seeping paint is compelling to me. During the process of making each painting, I experience a mixture of being in control and being surprised; I am working to integrate and balance these contrasting states.
Education
MFA Studio Arts, John F. Kennedy University, Berkeley, CA

BS Human Service Studies: Social Work, Cornell University, Ithaca, NY

Solo Or Two-person Exhibitions
Fields & Grids, 500 Tremont Avenue, Point Richmond, CA
New Work, Piedmont Center for the Arts, Piedmont, CA

Organic Abstraction, Mercury Twenty Gallery, Oakland, CA

Bumps & Gaps, MFA Graduate Show, Arts and Consciousness Gallery, Berkeley, CA

Surface:Pattern, Local 123 Gallery, Curated by Peter Hayes, Berkeley, CA
Bumps, JFKU Works in Progress Gallery, Berkeley, CA
Everyday is not the Same, Branch Gallery, Oakland, CA

Paintings & Works on Paper, JFKU Works in Progress Gallery, Berkeley, CA
Circles, Bumps & Grids, Start Here SF Non Salon, Curated by Doniece Sandoval, San Francisco, CA

New Work, Suite Five Salon, Curated by Jenn Doyle Crane, San Francisco, CA
Paintings & Fabric Works, Venus Restaurant, Berkeley, CA
Etching, Painting & Drawing, JFKU Works in Progress Gallery, Berkeley, CA
Painting & Drawing, JFKU Works in Progress Gallery, Berkeley, CA

Paintings & Works on Paper, JFKU Works in Progress Gallery, Berkeley, CA

Group Exhibitions
Here: Artists Annual, Berkeley Art Center, Berkeley, CA
Black & White and Shades of Gray, O'Hanlon Center for the Arts, Juried by Linda Connor, Mill Valley, CA
Artist Choice, SF Women Artists Gallery, Juried by Matt McKinley, San Francisco, CA
Collect, Invitational Exhibition, Berkeley Art Center, Berkeley, CA
Squared Alumni, Arc Gallery, Curated by Michael Yochum, San Francisco, CA
Harvest Festival, Piedmont Center for the Arts, Piedmont, CA
ABSTRACT, Sebastopol Center for the Arts, Juried by Frances McCormack, Sebastopol, CA
Abstract Preferences, NIAD Art Center, Organized by Anthony Pinata, Richmond, CA
Reimagining Minimalism, O'Hanlon Center for the Arts, Curated by Don Soker, Mill Valley, CA
Here: Artists Annual, Berkeley Art Center, Berkeley, CA
Harvest Festival, Japanese Tea House, Piedmont, CA
Common Ground, Gray Loft Gallery, Curated by Jan Watten, Oakland, CA

Here: Artists Annual, Berkeley Art Center, Berkeley, CA

Luminous Worlds, O'Hanlon Center for the Arts, Juried by Cindy Pavlinac, Mill Valley, CA

Touch, Campfire Gallery, San Francisco, CA

Paper Work, Oakland International Airport, Curated by Oakland Museum, Oakland, CA
Transport: Members' Exhibition, Pro Arts Gallery, Oakland, CA
Array: Artists Annual, Berkeley Art Center, Berkeley, CA
Art as Liminal Space, Alumni Exhibition, Juried by Jeremy Morgan, JFK University, Berkeley, CA

Fluid Geometry, San Pablo Art Gallery, Curated by Ann Austin, San Pablo, CA
Wonder: Artists Annual, Berkeley Art Center, Berkeley CA
Graduate Exhibition, John F. Kennedy University, Berkeley, CA

Feral Order: Contemporary Abstraction, Los Medanos College Art Gallery, Curated by Judi Pettite, Pittsburg, CA

Four Squared, Arc Gallery, Curated by Michael Yochum, San Francisco, CA
Berkeley Civic Art Exhibition, Juried for MLK Jr. Civic Center Building, Berkeley, CA
Shine: Artists Annual, Berkeley Art Center, Berkeley, CA
Green: Artists Annual, Berkeley Art Center, Berkeley, CA

4 x 4 Community Exhibition, John F. Kennedy University, Berkeley, CA

Red: Artists Annual, Berkeley Art Center, Berkeley, CA

4 x 4 Community Exhibition, John F. Kennedy University, Berkeley, CA
Community Exhibition, John F. Kennedy University, Berkeley, CA

Winter Dreams, Transmissions Gallery, Berkeley, CA

Press
Home remodel project and glass disc window installation featured in Diablo Magazine, October 2016
Painting from Collect at Berkeley Art Center featured in the Berkeley Times, September 2016
Home remodel project and approach to art featured in Luxe Interiors + Design SF magazine, September 2015
Critic's Choice Review of Common Ground, East Bay Monthly by DeWitt Cheng, May 2015
Painting from Wonder at Berkeley Art Center featured in the Berkeley Times, January 2013
Critic's Pick Review of Bumps & Gaps, East Bay Express by DeWitt Cheng, October 2011
Critic's Choice Review of Everyday is not the Same, The East Bay Monthly by Jeanne Storck, July 2010
Critic's Pick Review of Everyday is not the Same, East Bay Express by DeWitt Cheng, July 2010
Featured Artist, Pivot Gallery, pivotgallery.com, May 2010
Art pictured in California Home + Design Magazine, San Francisco, CA, April 2010
Featured Artist on Jute interior design website, jutehome.com, 2009–2010, 2013
Review on ArtBusiness.com of Suite Five Salon Solo Show, San Francisco, CA 2009
Published in 580 Split: A Journal of Letters and Arts, Issue Five, 2003
Public Presentations
Black & White and Shades of Gray Artist Roundtable Discussion, O'Hanlon Center, Mill Valley, CA 2016
Organic Abstraction Artist Talk, Mercury Twenty Gallery, Oakland, CA 2013
Feral Order Artist Talk, Los Medanos College Art Gallery, Pittsburg, CA 2011
Bumps & Gaps Artist Talk, Arts and Consciousness Gallery, Berkeley, CA 2011
Four Squared Artist Talk, Arc Gallery, San Francisco, CA 2011
Berkeley Civic Center Guided Tour Talk, Berkeley, CA 2011
Circles, Bumps & Grids Artist Talk, Start Here SF Non Salon, San Francisco, CA 2009
Honors
Bay Area Visual Arts Network Selected Artist, Oakland, CA 2013
MFA Selections Exhibition Nominee, di Rosa Art Preserve, Napa, CA 2012
Alameda County Arts Commission Artist Registry Selected Artist, Oakland, CA 2010–2012
Bay Area Visual Arts Network Selected Artist, Oakland, CA 2010
Critic's Picks by DeWitt Cheng, East Bay Open Studios, Pro Arts Gallery, Oakland, CA 2009
Critic's Picks by Timothy Buckwalter, East Bay Open Studios, Pro Arts Gallery, Oakland, CA 2009